WELCOME!
Are you looking for a refuge from the world's promise of quick fixes and material needs? Do you want a safe place to explore your questions about faith? Are you seeking a way to purposefully engage with your community? 
Whatever brings you to our digital space, we're so happy that you're here. At Hope Lutheran, we want to support your faith journey, offer genuine fellowship, and provide meaningful ways to serve.
Sundays at Hope
At 10am every Sunday morning, we take time away from our busy lives to gather around God's Word.
What To Expect
Our service is a modern take on historical worship practices. Every Sunday we follow of pattern of worship. We sing songs, speak responses from God's Word, hear lessons from the Bible, and have about a 20 minute sermon based on one of those lessons. 
All Are Welcome
Whether church has been a part of your life since you were a child or you are exploring faith and have questions, our community is here to welcome you, without judgement. 
Hope Kids
We love seeing children at Hope! We encourage them to ask questions and participate in Sunday Worship services. Additionally, we offer a weekly Hope Kids Class (Sunday School) from 9:00- 9:45 am where children learn about Jesus in age-appropriate ways. We also offer fun activities throughout the year to help children learn more about Jesus' love for them. 
Our Hope Kids class and activities are geared towards PreK-5th grade. Check our Calendar for upcoming events or Contact Pastor Andrew for information.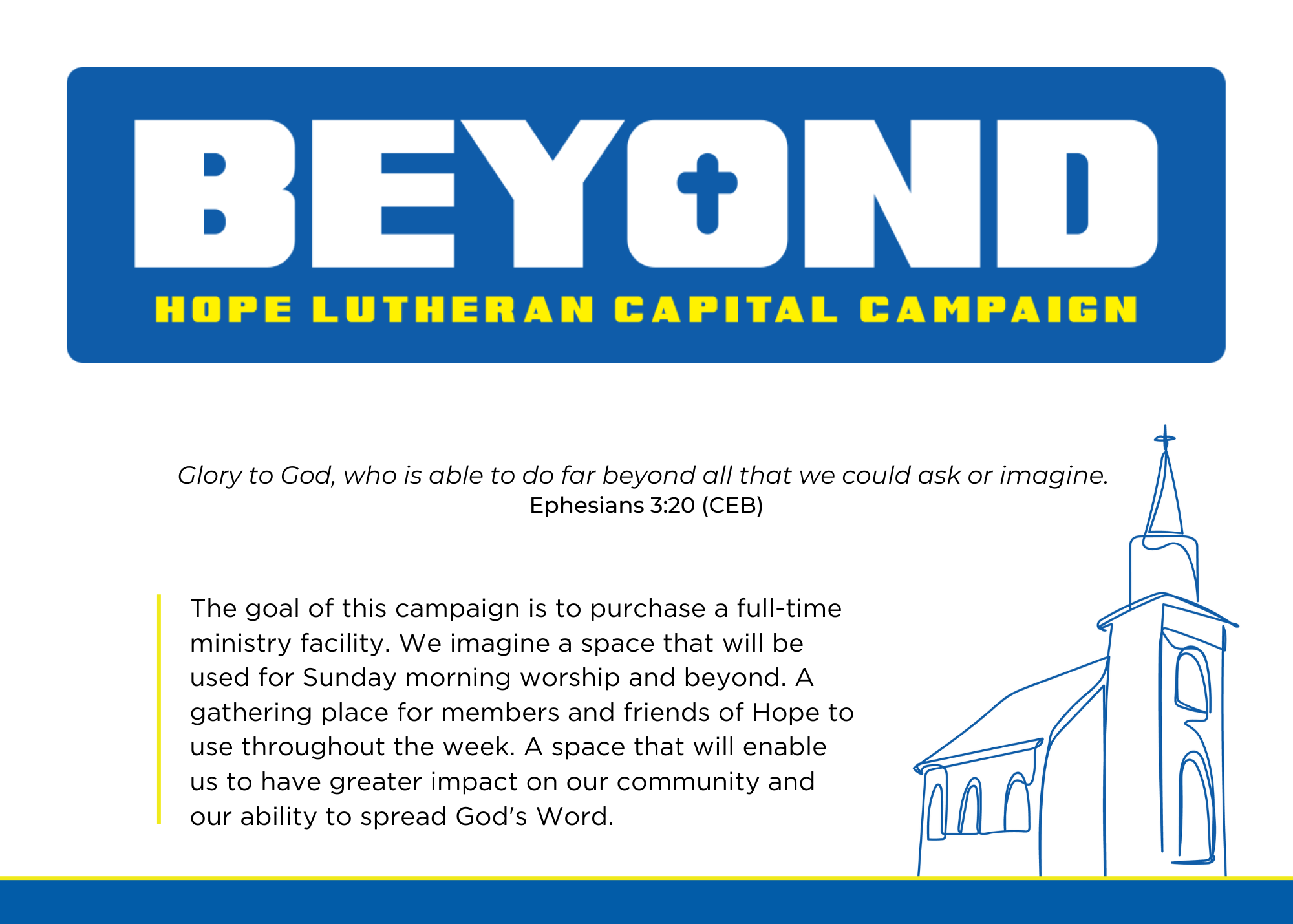 We are excited to share that the amount we raised for our short-term goal was $607,153.  Additionally, the amount to date pledged toward our two-year goal was $121,000 for a total of $728,153! We are amazed by how God has had a hand in this campaign and are hopeful we will reach the $750,000 target by April 2025. Thank you to those that have contributed to this campaign both monetarily and in prayer!

We can help cover Uber rides to Sunday service and/or coordinate carpooling with fellow students who live nearby.
Come study the basic teachings of the Bible in this relaxed, discussion-based class.