"Let the little children come to me and do not hinder them, for to such belongs the kingdom of heaven."
Hope Children's Ministry exists to share Jesus with the children of the congregation and surrounding community.
We want to partner with families to raise children that are confident, healthy, and have a strong love and trust of Jesus. 
We do this by providing safe, fun & Christ-centered activities including:
Church Service: Children's message, bible coloring sheets, sermon study sheets

Bible Education: Sunday school, confirmation class

Community & Events: vacation bible schools, kids day outs, youth group, community service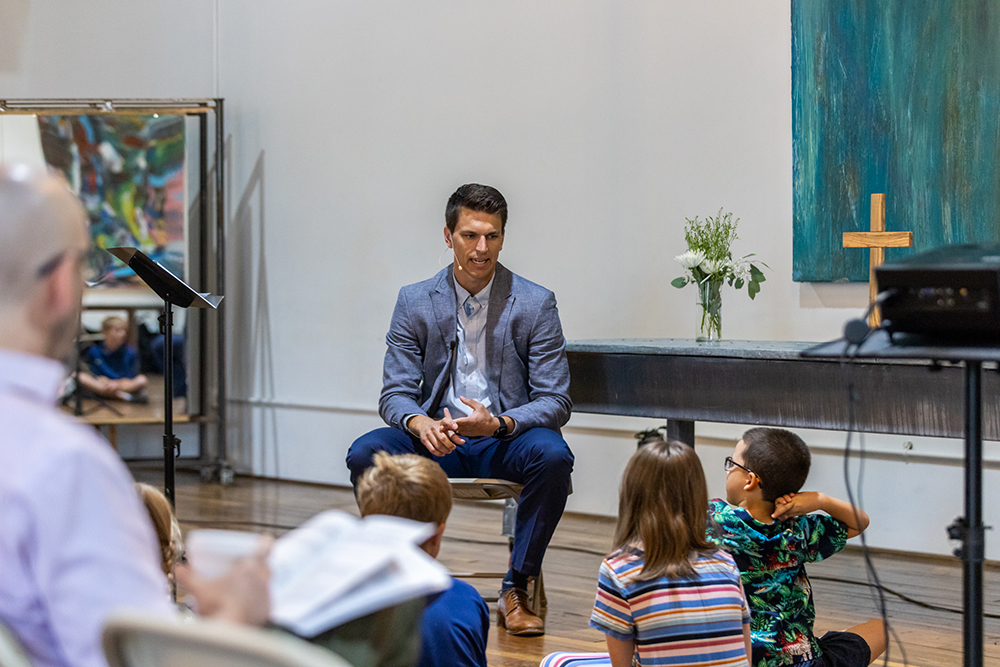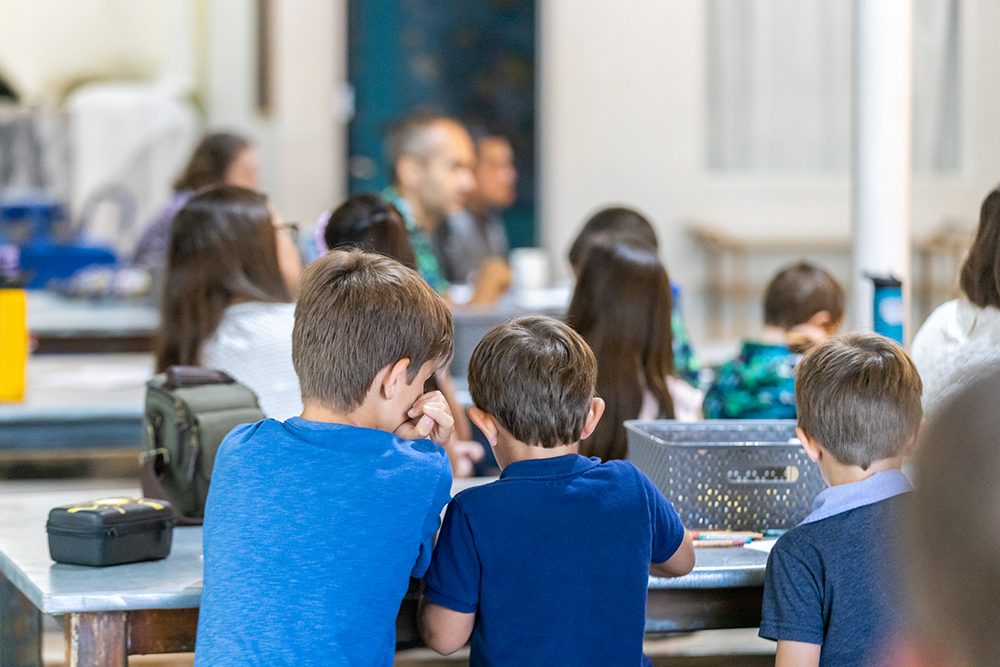 Children at Hope Lutheran Church Services
Children are a blessing from God and are always welcome at Hope. We want them to hear the saving Gospel with their families and do not mind if they wiggle or make a little noise during our service. 
For your convenience, we provide snacks and coloring materials at our Family Tables, but feel free to bring your own.
Nursing Mothers
Nursing mothers are welcome and encouraged to attend church. In our current location, we have a small room available for nursing, noted with the mounted "Baby Lounge" sign.
Classrooms
Classrooms are generally split into younger grades (PK4-5th) and older grades (6th and up)
Sunday School Schedule
Hope is committed to ensuring our children learn about God's promises in a way that is fun and meaningful in age-appropriate Bible classes held following morning services. 
Devotional Resources for Families
Studying God's Word together creates opportunities to learn of Jesus' love and also talk about important subjects. We encourage families to build devotional time into the rhythm of their day. These books are recommended resources for family Bible study.
List of resources available on Amazon here.
Recommended Age: 3-6
Description: Story-fied versions of many favorite Bible Stories.
Where to buy: Amazon
Recommended Age: 8-11
Description: A children's study of the Psalms and how to use them in our daily lives.
Where to buy: Amazon
Recommended Age: 8-12
Description: Uses scripture to adress topics relevant to young children (e.g. homework, tempers, whining, etc)
Where to Order: Amazon
Description: Provides information on how children's brains develop and how to help them integrate and deal with feelings and hard things.
Where to Buy: Amazon
Description: Book with suggestions on how to incorporate God's word into daily routines and rhythms
Where to Buy: Amazon
Description: Book with suggestions on how to set healthy boundaries for children
Where to Buy: Amazon
Description: Child development book with strategies on how to prevent rivalry among siblings.
Where to Buy: Amazon
Description: Book that addresses our communication struggles, which can so often happen with kids and family in general.
Where to Buy: Amazon
Society is saturated with subtle and not-so-subtle messages about bodies and sex and children will learn about these topics either from other children or simply by living in the world. While it is never children's job to protect themselves, it is better for children to receive a calm, informative, and age-appropriate introduction to these topics from caregivers rather than from peers, the media or child abusers.
List of resources available on Amazon here.
Recommended Age: 2-7
Description:  A book that encourages comfort in how God made us unique
Where to Buy: Amazon
Recommended Age: 6-11
Description: Provides instructions to children on how pornography is harmful and what to do if they accidentally see it.
Where to Buy: Amazon and Amazon (Jr version)
Recommended Age: 7-10
Description: Book that teaches children how what we do online can affect us long term
Where to Buy: Amazon
Description: Training on abuse for those who work with children and vulnerable populations
Resource Links:
Description: The Wait Until 8th pledge empowers parents to delay giving children smartphones until at least 8th grade.
Resource Links: